Sapphire (Hand & Body Lotion)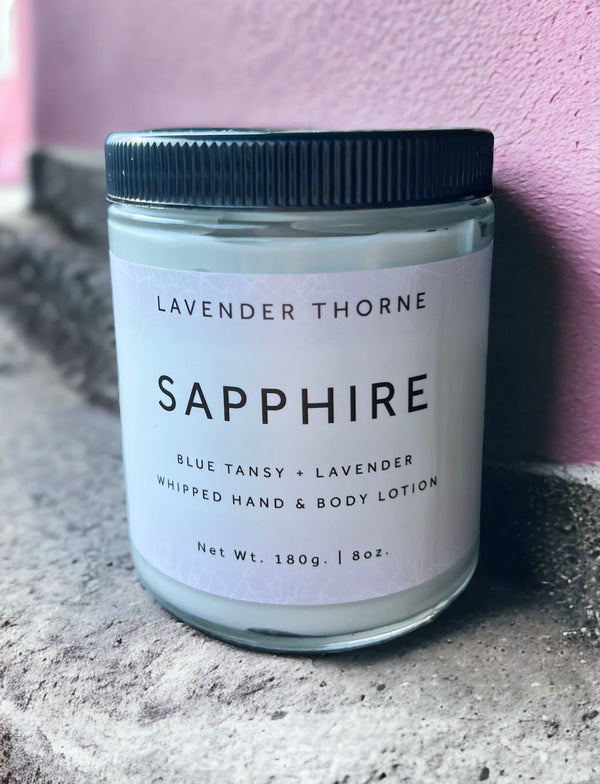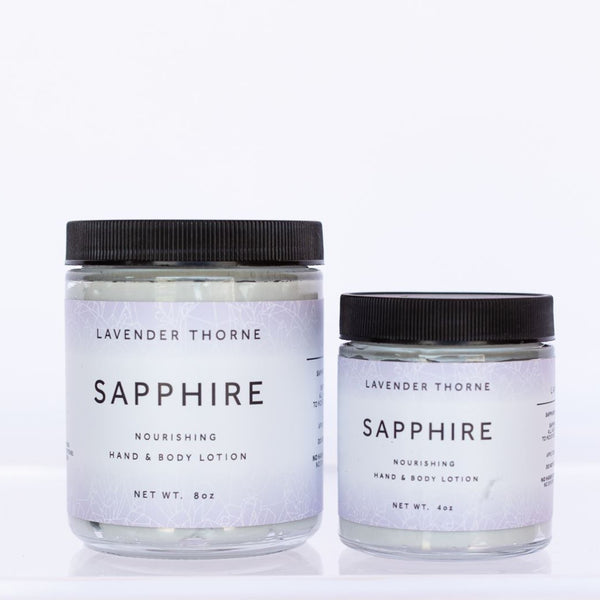 Meet Sapphire, your ultimate skincare solution! Our buttery soft, whipped body butter is carefully crafted with a blend of premium ingredients, chosen to nourish and pamper your skin.
Organic Coconut Oil: This versatile ingredient is renowned for its deeply moisturizing properties. Packed with essential fatty acids, it effectively hydrates and seals in moisture, leaving your skin oh so soft.
Raw Shea Butter: A natural emollient, raw shea butter possesses remarkable healing properties. Rich in vitamins A and E, it deeply moisturizes, restores elasticity, and soothes dry or irritated skin, promoting a youthful and revitalized complexion.
Organic Vitamin E: A potent antioxidant, organic vitamin E shields your skin from harmful free radicals, preventing premature aging and supporting a healthy, vibrant appearance. It helps reduce the appearance of scars, wrinkles, and uneven skin tone.
Organic Arrowroot Powder: This fine powder acts as a natural thickening agent, adding a luxurious texture to our body butter. Furthermore, arrowroot powder helps absorb excess oil, impurities, and environmental pollutants, purifying and detoxifying your skin.
Blue Tansy Oil: Known for its calming and anti-inflammatory properties, blue tansy oil soothes irritated or sensitive skin. Its vibrant blue color comes from azulene, a potent antioxidant that aids in reducing redness and evening out skin tone.
Lavender Oil: Lavender oil not only provides a delightful aromatic experience but also offers numerous skincare benefits. It helps calm inflamed skin, reduces the appearance of blemishes, and supports a balanced complexion.
Sapphire Body Butter brings you a truly indulgent skincare experience. Say goodbye to dry, cracked skin and embrace a renewed, silky-smooth texture that radiates beauty and confidence. Your skin will thank you later.
"Never will I leave you. Never will I forsake you."  Hebrews 13:5
TO USE
Apply the desired amount to the hands and body.  DO NOT CONSUME, FOR EXTERNAL USE ONLY.
"Never will I leave you. Never will I forsake you."  Hebrews 13:5
MADE WITH
Organic Coconut Oil, Raw Shea Butter, Organic Vitamin E, Organic Arrowroot Powder, Blue Tansy Oil, and Lavender Oil (Therapeutic Grade essential oils.)
"Never will I leave you. Never will I forsake you."  Hebrews 13:5
These statements have not been evaluated by the FDA and are not intended to diagnose, treat, or cure any disease.
Always check with your physician before starting a new dietary supplement program.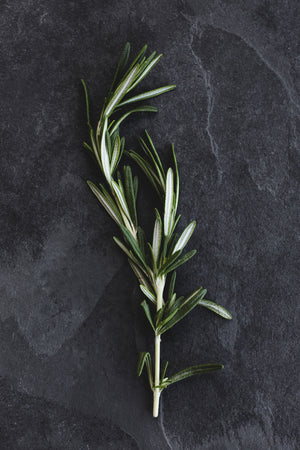 God First
Our mission at Lavender Thorne is to be the hands and feet of Jesus & bring the word into as many homes as possible.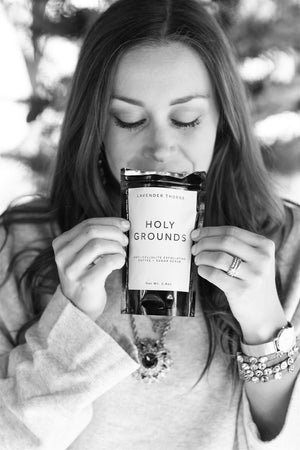 Hands On
Here at Lavender Thorne you will find the owners working daily in the kitchen, on shipments, and local deliveries. We pride ourselves in excellent customer service. If you are ever unsatisfied please contact us. We would love to make it right.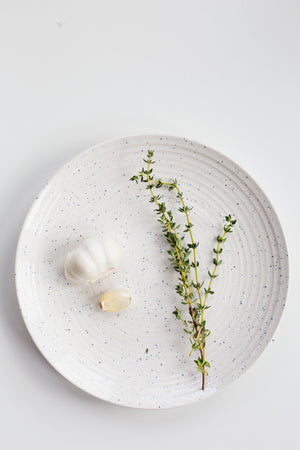 Ingredients
We pride ourselves on our handpicked ingredients, quality of products and original recipes.