Lemon Pound Cake Body Butter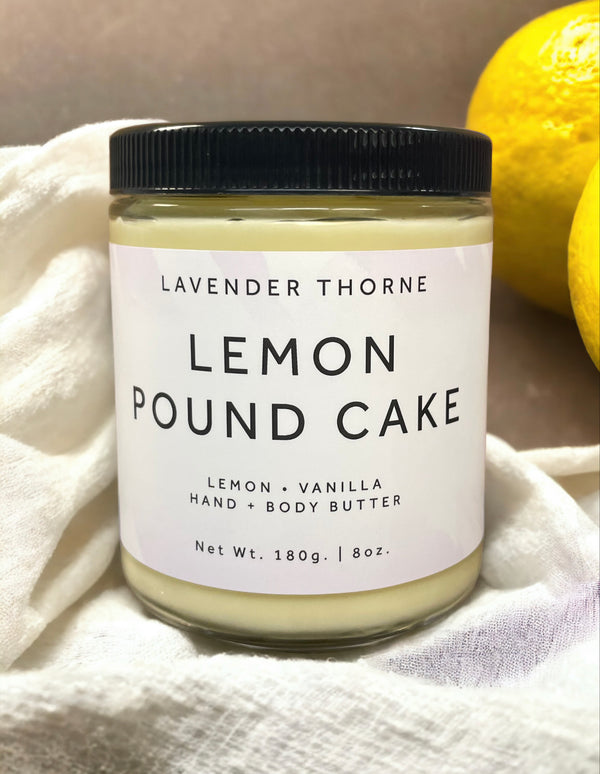 Product comes in 4oz or 8oz glass jar.
" Rejoice always, play constantly, give thanks in everything, for this is God's will for you in Christ Jesus."
I Thessalonians 5:16-18
Lemon Pound Cake Body Butter by Lavender Thorne is a luxurious and indulgent treat for your skin. Made with organic ingredients, this body butter provides intense hydration and nourishment, leaving your skin feeling deeply moisturized and incredibly soft.
•Organic Shea Butter and Organic Coconut Oil create a rich and creamy texture that melts into your skin, locking in moisture and preventing any dryness. These ingredients are known for their natural emollient properties, making them ideal for maintaining soft, smooth skin.
•Organic Rosehip Seed Oil is known for its powerful antioxidant properties. It helps protect your skin from free radicals, which can lead to premature aging. In addition, Rosehip Seed Oil is rich in essential fatty acids, such as omega-3 and omega-6, which promote collagen production and improve skin elasticity.
•Organic Golden Jojoba is a gentle and non-greasy oil that closely resembles the natural oils produced by our skin. It helps balance oil production, making it suitable for all skin types. Golden Jojoba also has anti-inflammatory properties and can soothe irritated skin, making it perfect for those with sensitive skin or conditions like eczema.
•Pure Vitamin E is a potent antioxidant that helps protect your skin from environmental damage, such as UV radiation and pollution. It also aids in repairing and replenishing your skin's moisture barrier, promoting a healthy and youthful complexion.
To complete the experience, Lavender Thorne has added Vanilla, Lemon, and Cinnamon Therapeutic-Grade Essential Oils to give a delightful scent reminiscent of a freshly baked lemon pound cake. These essential oils not only provide an uplifting and invigorating aroma, but they also offer various skincare benefits. Lemon essential oil is known for its brightening and clarifying properties, while Vanilla and Cinnamon essential oils have anti-inflammatory and antibacterial properties.
Moisturize, nourish, and protect the skin your in.
PRO TIP: Pairs great with Lemon Pound Cake Body Spray 
TO USE: Apply desired amount to hands or body. Enjoy!
MADE WITH: Organic
 Shea Butter, Organic Coconut Oil, Organic Rosehip Seed Oil, Organic Golden Jojoba, Pure Vitamin E, Organic Arrowroot Powder, Vanilla,

Lemon

and Cinnamon 
Therapeutic-Grade Essential Oils.
These statements have not been evaluated by the FDA and are not intended to diagnose, treat, or cure any disease.
Always check with your physician before starting a new dietary supplement program.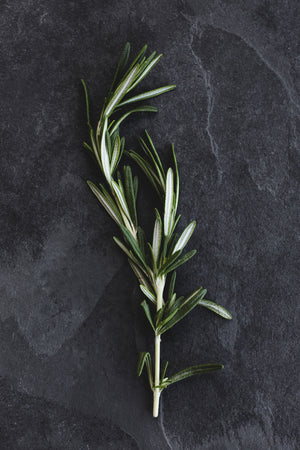 God First
Our mission at Lavender Thorne is to be the hands and feet of Jesus & bring the word into as many homes as possible.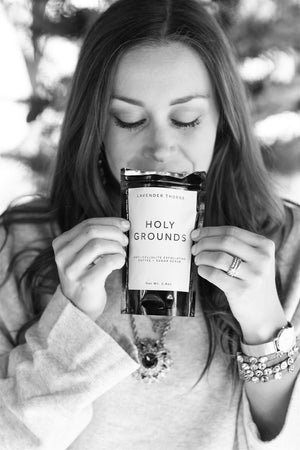 Hands On
Here at Lavender Thorne you will find the owners working daily in the kitchen, on shipments, and local deliveries. We pride ourselves in excellent customer service. If you are ever unsatisfied please contact us. We would love to make it right.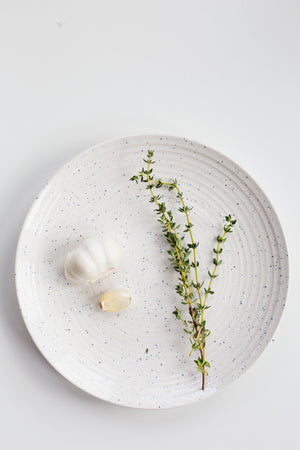 Ingredients
We pride ourselves on our handpicked ingredients, quality of products and original recipes.