Pumpkin Spice & Everything Nice Body Butter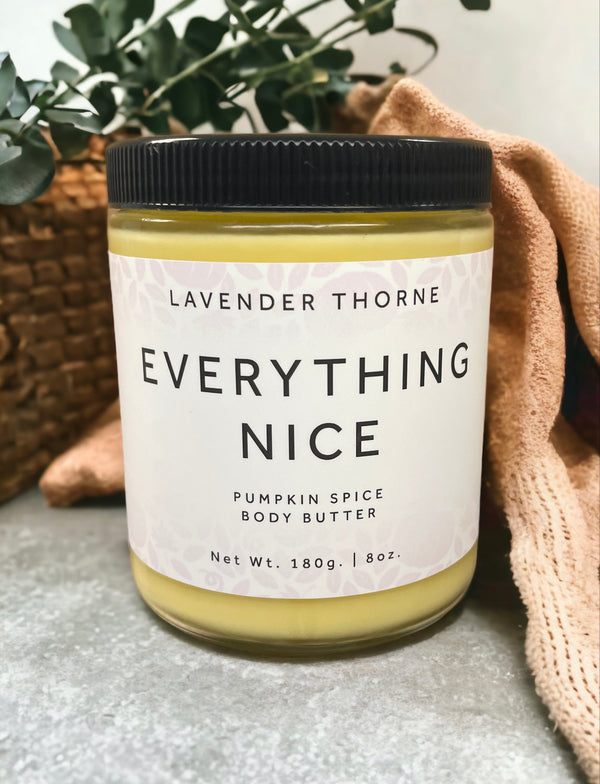 "Give thanks to the Lord, for He is good. His love endures forever." Psalms 106.1
Product Available in 4oz & 8oz glass jar
Introducing "Everything Nice" by Lavender Thorne: a delightful blend of nature's finest ingredients, specially crafted to treat your skin with love and care.
Our secret recipe begins with the nurturing touch of Organic Shea Butter, a luxurious moisturizer that deeply hydrates and leaves your skin feeling incredibly soft. Combined with the wonders of Organic Coconut Oil, known for its soothing properties, your skin will feel pampered and rejuvenated.
Infused with Organic Rosehip Seed Oil, this handmade formula helps improve skin elasticity and reduce the appearance of fine lines and wrinkles, giving your complexion a youthful glow. Organic Golden Jojoba works its wonders by moisturizing without clogging pores, ensuring a healthy balance for your skin.
To enhance the nourishing benefits, we've added Pure Vitamin E, a natural antioxidant that helps protect your skin from the harsh effects of daily environmental stressors. Organic Arrowroot Powder, known for its oil-absorbing qualities, effortlessly leaves your skin feeling fresh and velvety smooth.
But it doesn't stop there! "Everything Nice" also showcases a delightful blend of therapeutic-grade essential oils. With the sweet allure of Vanilla and the warm spice of Clove Bud, your senses will be in awe. The exotic scents of Cassia, Cardamom, and Nutmeg add a touch of intrigue, whisking you away to a blissful state of tranquility.
When it comes to skincare, Lavender Thorne believes that nature is the ultimate source of nourishment. That's why every jar of "Everything Nice" is carefully handcrafted with love and utmost attention to detail. Treat yourself to this indulgent delight and experience the true goodness of nature on your skin.
Be kind to your skin, and let us take care of the rest.
TO USE: APPLY DESIRED AMOUNT TO HANDS OR BODY. ENJOY!
MADE WITH: Organic
 Shea Butter, Organic Coconut Oil, Organic Rosehip Seed Oil, Organic Golden Jojoba, Pure Vitamin E, Organic Arrowroot Powder, Vanilla, Clove Bud, Cassia, Cardamom and Nutmeg 
Therapeutic-Grade Essential Oils.
These statements have not been evaluated by the FDA and are not intended to diagnose, treat, or cure any disease.
Always check with your physician before starting a new dietary supplement program.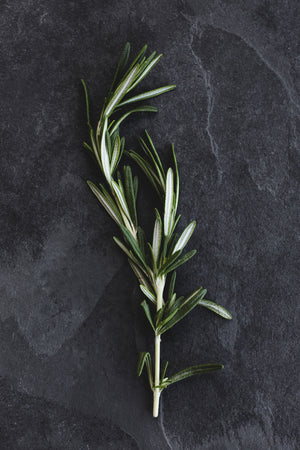 God First
Our mission at Lavender Thorne is to be the hands and feet of Jesus & bring the word into as many homes as possible.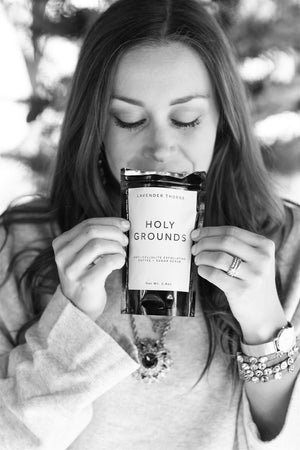 Hands On
Here at Lavender Thorne you will find the owners working daily in the kitchen, on shipments, and local deliveries. We pride ourselves in excellent customer service. If you are ever unsatisfied please contact us. We would love to make it right.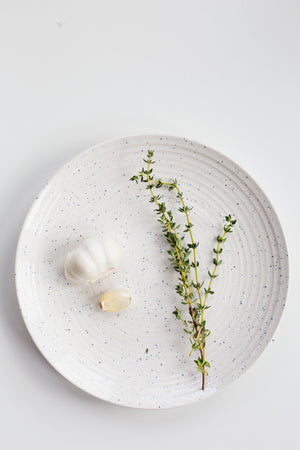 Ingredients
We pride ourselves on our handpicked ingredients, quality of products and original recipes.